Welcome to Week 8 of Friendly Debates With The Danielles!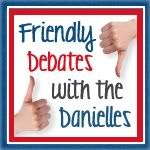 Each Sunday evening Danielle from "We Don't Have It All Together, But Together We Have It All" and I will host this awesome meme and we would love for you to link up and join us. There will be a question each week that will require you to think about how you feel about a certain topic and to decide where you stand regarding that topic, then of course share those thoughts!
We do have a few rules… or rather guidelines… that we would appreciate being followed:
1.) Please follow the hosts via GFC: Danielle B. & Danielle H.
2.) If you link up please leave a comment so we can visit you.
3.) This is a meme, so you MUST answer the question in a blog post.
4.) Link directly to the blog post in which you answer the question.
5.) Grab the button and place either in your post or on your blog.
(You can find the html code in my right side bar).
6.) At the end of your post leave a suggestion for the following weeks topic.
If we choose your suggestion you will be mentioned and linked to in the following weeks post.
AND THE MOST IMPORTANT RULE
Please respect each others opinions. This means no bashing of other bloggers in comments on their posts. Kind words and genuine questions are encouraged. If you strongly disagree with someone else the place to address your view point is in a post on your own blog. If we find that you have blatantly disregarded this you will be removed from the linky.
TOPIC
Santa Claus: Yay or Nay? What do YOU say?
We say YAY!
It's quite simple in our house.  The girls know about Santa and that he will be delivering presents to them on Christmas.  We go to visit him and get their pictures taken and so Dilly can tell him what she wants for Christmas.  Both Dustin and I grew up with the magic of Santa and the joy of finding presents that magically appeared under the tree and in our stockings – so we want our children to experience this same joy.  I remember catching my dad placing presents under the tree when I was ten years old and realizing that Santa wasn't real.  And no I did not freak out, hehe.  I remember going back to bed and realizing that it didn't matter that Santa wasn't real because it had always been my parents providing the presents and I was so appreciative of everything they had given me.  Now I put some presents from Santa and some from Dustin and I because Santa can't have all the glory, hehe.  I also think it helped that when I discovered Santa wasn't real I had a three year old little sister who still believed so I got to continue the story with her and Santa was still alive in our home.
I do want to mention that my children also know the true meaning for the season – the birth of Jesus.  In fact Dilly and Sugar have their own Little People Nativity Set and Dilly knows what it is and why.  Sugar loves to carry baby Jesus around and I am constantly looking for him because she doesn't want to leave him in the nativity scene.  And so when the day comes that they no longer believe in Santa they will know that everything I told them about Jesus is real and that Santa "the kind person who brings toys and loves them" wasn't a complete lie… because I do believe Dustin and I are kind people who love our girls so much that we spoil them rotten with all the  toys on their list.
So what are your thoughts?  Do your children know who Santa is or do you keep him out of the holiday?  Link up and let us know!