Welcome to Week 13 of Friendly Debates With The Danielles!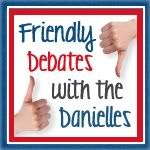 Each Sunday evening Danielle from "We Don't Have It All Together, But Together We Have It All" and I will host this awesome meme and we would love for you to link up and join us. There will be a question each week that will require you to think about how you feel about a certain topic and to decide where you stand regarding that topic, then of course share those thoughts!
We do have a few rules… or rather guidelines… that we would appreciate being followed:
1.) Please follow the hosts via GFC: Danielle B. & Danielle H.
2.) If you link up please leave a comment so we can visit you.
3.) This is a meme, so you MUST answer the question in a blog post.
4.) Link directly to the blog post in which you answer the question.
5.) Grab the button and place either in your post or on your blog.
(You can find the html code in my right side bar).
6.) At the end of your post leave a suggestion for the following weeks topic.
If we choose your suggestion you will be mentioned and linked to in the following weeks post.
AND THE MOST IMPORTANT RULE
Please respect each others opinions. This means no bashing of other bloggers in comments on their posts. Kind words and genuine questions are encouraged. If you strongly disagree with someone else the place to address your view point is in a post on your own blog. If we find that you have blatantly disregarded this you will be removed from the linky.
TOPIC
Carseats – Extended Rear Facing: Yay or Nay? What do YOU say?
I say yay to extended rear facing.  I truly wish I had known more about this when Dilly was a baby because she would have been rear facing much longer than she did.  Everyone knows (or should know) that it is required by law for children to rear face until at least one year old AND twenty pounds.  Neither of my girls were twenty pounds at their one year check up and so they remained rear facing well beyond their first birthday.
I know that for many people turning their kids around to forward facing just seems like another milestone…. we reached twenty pounds – time to turn around.  But I want to share with you some facts about rear facing and a video that I am quite certain will change your mind.
Rear-facing is safest for children, but especially for babies, who would face a greater risk of spinal cord injury in a front-facing carseat during a frontal crash.
Rear-facing car seats spread frontal crash forces over the whole area of a child's back, head and neck; they also prevent the head from snapping relative to the body in a frontal crash.
Rear-facing carseats may not be quite as effective in a rear end crash, but severe frontal and frontal offset crashes are far more frequent and far more severe than severe rear end crashes.
Rear-facing carseats are NOT a safety risk just because a child's legs are bent at the knees or because they can touch/kick the vehicle seat. (I have not heard of a child dying from a broken leg…. but a broken neck….)
Rear-facing as long as possible is the recommendation of the American Academy of Pediatricians, and can reduce injuries and deaths.   Motor vehicle crashes are the #1 overall cause of death for children 14 and under.
And now for the video that will definitely put things in perspective….
If you are wondering what carseats have higher rear facing height and weight limits here are some that you might want to check out… of course there are more, these are just a few suggestions:
Diono Radian (65SL – 40 lbs., 80SL or XTSL – 45 lbs.)
Britax Marathon 70/Boulevard 70/Advocate 70 CS (40 lbs.)
Safety 1st Complete Air (40 lbs.)
Learning Curve True Fit models (35 lbs. but taller than most)
Graco MyRide 65 (40 lbs)
Evenflo Triumph 65 (40 lbs.)
Evenflo Momentum 65 (40 lbs.)
Cosco Scenera (35 or 40 lbs)
For more information a really great website to check out is Car-Safety.org.
So what are your thoughts on extended rear facing?  Learn anything new from my post?  Link up and share!  Or just leave a comment below.