You guys…. I feel absolutely terrible that I haven't been posting as much as normal and that I haven't been giving you lots of awesome giveaways to enter.  This pregnancy has definitely thrown me for a loop.  It seems like if it's not one thing it's another.  I pretty much am constantly nauseated and have a bad headache, but then throw in the sinus infections – yes 2 of them, UTI (that went in my bladder and kidneys), and migraine…. well ya it has just sucked these past few weeks.  The good news is I *think* I am finally pulling out of the worst of the first trimester and can get back to normal posting.  In the mean time I have an awesome giveaway for you that I have teamed up with some other amazing bloggers to bring you  – $300 CASH!  It's intended to be used for a fun Valentine's Date Night, but obviously you could use it for anything your little heart desires.  And so here are the details.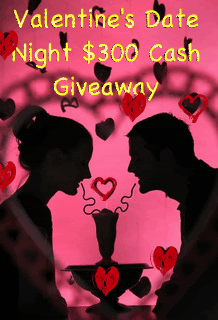 January 22nd through February 7th 2012
OPEN WORLD WIDE TO ANYONE WITH A PAYPAL ACCOUNT!
Here are the awesome bloggers that I have teamed up with in case you wanna check out a few new blogs and find more fun giveaways to enter:
So what are you waiting for??  Hurry up and enter!  Be sure to put that you heard about this great giveaway from Happenings of the Harper Household…. and I promise I will have lots of amazing reviews and giveaways up soon.  Pinky swear!