Welcome to Week 17 of Friendly Debates With The Danielles!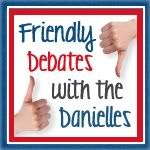 Each Sunday evening Danielle from "We Don't Have It All Together, But Together We Have It All" and I will host this awesome meme and we would love for you to link up and join us. There will be a question each week that will require you to think about how you feel about a certain topic and to decide where you stand regarding that topic, then of course share those thoughts!
We do have a few rules… or rather guidelines… that we would appreciate being followed:
1.) Please follow the hosts via GFC: Danielle B. & Danielle H.
2.) If you link up please leave a comment so we can visit you.
3.) This is a meme, so you MUST answer the question in a blog post.
4.) Link directly to the blog post in which you answer the question.
5.) Grab the button and place either in your post or on your blog.
(You can find the html code in my right side bar).
6.) At the end of your post leave a suggestion for the following weeks topic.
If we choose your suggestion you will be mentioned and linked to in the following weeks post.
AND THE MOST IMPORTANT RULE
Please respect each others opinions. This means no bashing of other bloggers in comments on their posts. Kind words and genuine questions are encouraged. If you strongly disagree with someone else the place to address your view point is in a post on your own blog. If we find that you have blatantly disregarded this you will be removed from the linky.
TOPIC
Allowances: Yay or Nay? What do YOU say?
So…. I know this post was supposed to be up Sunday night and we are now at Wednesday.  And well the reason being I couldn't really decide how I felt about the idea of giving my children allowances.  Growing up I didn't receive an allowance.  I was just expected to help out around the house whether it be dusting, sweeping, mowing the grass, raking the yard, or whatever my parents asked of me.  In return for doing these chores I always was provided with everything I needed and if I asked for a few bucks to go to a high school basketball game or something like that I was rarely told no.  And so I have been sitting here thinking should I do things the same way or not.  And I think I have a pretty good idea of what I would like to do with my children concerning giving them an allowance.
As I said my parents expected me to help out around the house and I will expect the same thing out of my children.  Because I can guarantee you one thing I will not be giving them an allowance out of the goodness of my heart.  They will not just be handed money without earning it.  And so as my girls hit certain ages new chores will be added and some will be taken away and of course they will be age appropriate.  I also won't just expect them to remember what chores they are required to do and on what days.  Instead they will have a chore chart which they will check off once their chore is complete. At the end of the week their chores will be tallied up and they will receive their allowance.  Which means they if they decide they don't want to do their chores one day they will not be receiving allowance for that day.  In my mind this works perfectly, but I know it will all depend on how my children react to it.  The other thing I want to mention is that since I will be giving them an allowance that money will have to be used if they want to go a high school basketball game, to the movies, or something like that.
The reason I want to give them an allowance for doing their chores is so that they learn they are being rewarded for completing a job.  When their daddy goes to work he receives a pay check for doing his job and I want them to see that if they do their chores correctly and on time that they are appreciated and will receive a reward for their efforts.
So what do you think?  Will you give your kids an allowance?  Did you receive an allowance growing up?  Link up and let me know!