Welcome to Week 16 of Friendly Debates With The Danielles!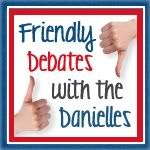 Each Sunday evening Danielle from "We Don't Have It All Together, But Together We Have It All" and I will host this awesome meme and we would love for you to link up and join us. There will be a question each week that will require you to think about how you feel about a certain topic and to decide where you stand regarding that topic, then of course share those thoughts!
We do have a few rules… or rather guidelines… that we would appreciate being followed:
1.) Please follow the hosts via GFC: Danielle B. & Danielle H.
2.) If you link up please leave a comment so we can visit you.
3.) This is a meme, so you MUST answer the question in a blog post.
4.) Link directly to the blog post in which you answer the question.
5.) Grab the button and place either in your post or on your blog.
(You can find the html code in my right side bar).
6.) At the end of your post leave a suggestion for the following weeks topic.
If we choose your suggestion you will be mentioned and linked to in the following weeks post.
AND THE MOST IMPORTANT RULE
Please respect each others opinions. This means no bashing of other bloggers in comments on their posts. Kind words and genuine questions are encouraged. If you strongly disagree with someone else the place to address your view point is in a post on your own blog. If we find that you have blatantly disregarded this you will be removed from the linky.
TOPIC
Cosleeping: Yay or Nay? What do YOU say?
I say yay – IF AND ONLY IF done safely.  The one thing that needs to be addressed is that there is a difference between cosleeping and bed sharing.
Cosleeping:  Sleeping close enough to baby for easy comforting, such as in a bedside cosleeper (such as an Arm's Reach Co-Sleeper).
Bed Sharing:  Mother and baby sleep side-by-side in an adult bed.
Dilly slept in bed with Dustin and I until she started rolling over.  At that point we moved her into a pack n play
with the bassinet until she moved to a crib at around 10 months old.  Sugar slept in an Arm's Reach Co-Sleeper which attached to our bed so she was beside me, but still in her own space.  I felt that since I was unable to nap when she napped, like I did with Dilly, that I would be just too tired at night to be fully aware of where she was in the bed at all times – which is why the Arm's Reach Co-Sleeper was the best choice at that time.  Once she outgrew the Arm's Reach Co-Sleeper at around six months old she moved into a crib which was in our bedroom.  At that point I wasn't aware of "side carring" the crib, but that is also another awesome option for co-sleeping.  For Baby Harper #3 we will most likely use an Arm's Reach Co-Sleeper or bassinet for the first few months.  After that I would love to try side carring the crib. 
In my opinion having your baby in their own space, but still close to mom is the safest way to cosleep.  If you do choose to actually share the same bed here are some great tips for keeping everyone as safe as possible.
Place babies to sleep on their backs.
Be sure there are no crevices between the mattress and guardrail or headboard that allows baby's head to sink into.
Do not allow anyone but mother to sleep next to the baby, since only mothers have that protective awareness of baby.  Place baby between mother and a guardrail, not between mother and father. Father should sleep on the other side of mother.
Don't fall asleep with baby on a cushy surface, such as a beanbag, couch, or wavy waterbed.
Don't bed-share if you smoke or are under the influence of drugs, alcohol, or medications that affect your sleep.
Plus there are actually BENEFITS to cosleeping:
Sleep more peacefully:  Research shows that co-sleeping infants virtually never startle during sleep and rarely cry during the night, compared to solo sleepers who startle repeatedly throughout the night and spend 4 times the number of minutes crying. Startling and crying releases adrenaline, which increases heart rate and blood pressure, interferes with restful sleep and leads to long term sleep anxiety.
Stable physiology:  Studies show that infants who sleep near to parents have more stable temperatures, regular heart rhythms, and fewer long pauses in breathing compared to babies who sleep alone. This means baby sleeps physiologically safer.
Decreases risk of Sudden Infant Death Syndrome:  Worldwide research shows that the SIDS rate is lowest (and even unheard of) in countries where co-sleeping is the norm, rather than the exception. Babies who sleep either in or next to their parents' bed have a fourfold decrease in the chance of SIDS. Co-sleeping babies actually spend more time sleeping on their back or side which decreases the risk of SIDS. Further research shows that the carbon dioxide exhaled by a parent actually works to stimulate baby's breathing.
Long term emotional health:  Co-sleeping babies grow up with a higher self-esteem, less anxiety, become independent sooner, are better behaved in school, and are more comfortable with affection. They also have less psychiatric problems.
Safer than crib sleeping:  The Consumer Product Safety Commission published data that described infant fatalities in adult beds. These same data, however, showed more than 3 times as many crib related infant fatalities compared to adult bed accidents. Another recent large study concluded that bed sharing did NOT increase the risk of SIDS, unless the mom was a smoker or abused alcohol.
So what are your thoughts on cosleeping?  Do you cosleep or bed share?  Link up and let us know!