Welcome to Week 22 of Friendly Debates With The Danielles!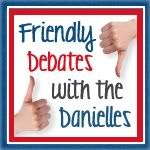 Each Sunday evening (yes, I'm a bit late) Danielle from "We Don't Have It All Together, But Together We Have It All" and I will host this awesome meme and we would love for you to link up and join us. There will be a question each week that will require you to think about how you feel about a certain topic and to decide where you stand regarding that topic, then of course share those thoughts!
We do have a few rules… or rather guidelines… that we would appreciate being followed:
1.) Please follow the hosts via GFC: Danielle B. & Danielle H.
2.) If you link up please leave a comment so we can visit you.
3.) This is a meme, so you MUST answer the question in a blog post.
4.) Link directly to the blog post in which you answer the question.
5.) Grab the button and place either in your post or on your blog.
(You can find the html code in my right side bar).
6.) At the end of your post leave a suggestion for the following weeks topic.
If we choose your suggestion you will be mentioned and linked to in the following weeks post.
AND THE MOST IMPORTANT RULE
Please respect each others opinions. This means no bashing of other bloggers in comments on their posts. Kind words and genuine questions are encouraged. If you strongly disagree with someone else the place to address your view point is in a post on your own blog. If we find that you have blatantly disregarded this you will be removed from the linky.
TOPIC
Bikinis for Toddlers/Tweens/Teens: Yay or Nay? What do YOU say?
My opinion on this wavers a lot….  so much I don't even know how to explain myself.  There are lots of creeps in this world and parents need to take that into consideration when buying bathing suits for their children, but with common sense good choices can be made.  And so I guess I am going to address my opinion on the three age categories separately.
Toddlers.  I typically buy two piece bathing suits for my girls when they are infants/toddlers because it makes diaper changing much much easier.  It is super difficult to peel a wet bathing suit off a wriggly body and then try to get it back on again, so only having to deal with the bottoms makes this much easier.  And even though I am saying YAY! to bikinis for toddlers I am NOT saying yay to ALL bikinis.  I can not believe some of the bathing suits that are marketed for toddlers.  It is absolutely ridiculous.  And even though I would never let my children out of my eye sight for even a second the creeps are still looking at them and that just makes me sick to my stomach.  Below on the left is a picture of Dilly at a local water park in a bikini that I find acceptable.  The bikini on the right is marketed for a toddler and that disgusts me – I refuse to tell you the company that makes it because I don't condone any parent purchasing it.
Tweens.  Girls are developing sooner and sooner it seems these days – most likely due to all the hormones added to meat and what not, but that's another debate for another day.  Anyhow, when I was a tween I had nothing to show off and no desire to show it off.  I have a feeling when my girls are tweens their bodies will be much more developed than mine was at the same age and I can guarantee you that I will be assisting in the purchase of bathing suits.  There will absolutely be no string bikinis in my household.  And let's mention the creeps again…. when my girls are tweens they will not be visiting local swimming pools without either their father or I present, but regardless those weirdos will still be looking, ugh, I may just vomit now.  And so when selecting bathing suits my girls will be given options that include boy cut bottoms, board shorts, tankini tops, and that sort of style that provides adequate coverage.  Below on the left is a bathing suit I would find acceptable for my tween and on the right… no way.
Teens.  Eeeeekkkk, will my girls really be teenagers one day?? Can't we just skip over that?  No?? Ok… well in that case, when my girls are teenagers they will have the same rules regarding bathing suits as when they were tweens.  Once they are 18 AND are paying for their own swimming suits they can make decisions for themselves, but until then mom (and dad) will control these issues.  Once my girls get the drivers license I will permit them to attend public pools without mom and dad tagging along, but they will be checking in frequently.  And since I will not have my eyes on them constantly their choice of bathing suits will be even more important to me.  And so again on the left is an option I would be ok with them wearing as a teenager and the right would never ever leave the store shelf.
So don't feel bad for the Harper girls because they will have the option of wearing two piece bathing suits, but they will be age appropriate and they will not be showing off all their skin because it is not necessary and it is not safe.  And well if they don't want to agree to the rules they don't need to go swimming.  It's just as simple as that.  Here's a picture of the girls wearing bathing suits I picked out for them for this year.  We already had to buy them since we went to an indoor water park…. they are two pieces, but as you can see they are also fully covered.
So what about you… what are your thoughts on bikinis for toddlers/tweens/teens?  Link up and let me know!