Welcome to Week 24 of Friendly Debates With The Danielles!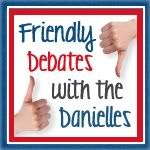 Each Sunday evening Danielle from "We Don't Have It All Together, But Together We Have It All" and I will host this awesome meme and we would love for you to link up and join us. There will be a question each week that will require you to think about how you feel about a certain topic and to decide where you stand regarding that topic, then of course share those thoughts!
We do have a few rules… or rather guidelines… that we would appreciate being followed:
1.) Please follow the hosts via GFC: Danielle B. & Danielle H.
2.) If you link up please leave a comment so we can visit you.
3.) This is a meme, so you MUST answer the question in a blog post.
4.) Link directly to the blog post in which you answer the question.
5.) Grab the button and place either in your post or on your blog.
(You can find the html code in my right side bar).
6.) At the end of your post leave a suggestion for the following weeks topic.
If we choose your suggestion you will be mentioned and linked to in the following weeks post.
AND THE MOST IMPORTANT RULE
Please respect each others opinions. This means no bashing of other bloggers in comments on their posts. Kind words and genuine questions are encouraged. If you strongly disagree with someone else the place to address your view point is in a post on your own blog. If we find that you have blatantly disregarded this you will be removed from the linky.
TOPIC
Easter Bunny: Yay or Nay? What do YOU say?
We say Yay.
In our house we do our best to teach our children the true meaning of Easter just like at Christmas. Though when your kiddos are still very young it is a little harder for them to understand the concept of Jesus' dying for our sins and his resurrection than it is for them to understand celebrating his birth. None the less we do our best to teach them why we are celebrating this wonderful holiday, but I don't think there is anything wrong with allowing them to have some childhood fun during this time as well.
Growing up we always went to visit the Easter bunny at our local mall to have pictures taken and he always visited our house to leave baskets full of wonderful goodies. I remember one year the "Easter bunny" hid my basket so well I thought he had truly forgotten about me, hehe. Once I found out the truth that the Easter bunny really does not exist I did not hate my parents for lying to me about this imaginary animal that left me presents once a year. Instead I was thankful for parents who loved me enough to give me an awesome basket of presents, but let the Easter bunny take all the credit for so many years…. since I was the oldest they got away with it for quite some time, hehe. And so I wanted to start this tradition with my girls as well.
Needless to say Dilly's first two Easter's she was not a fan of the furry bunny, but last year she and Sugar sat on his lap like he was the next best thing since popsicles – if you know my kids then you know popsicles are the best thing ever. We haven't made it to the mall yet this year, but are planning to go either tomorrow or Friday so you know I will be sharing that picture. In the mean time here they are last year….
Oh and yes we also do Easter egg hunts and coloring eggs – in fact I am taking all of the egg coloring gear over to my parents house this evening to have some fun with the girls… their kitchen is much bigger than ours and they have an island that makes it so easy to color eggs.
I do KNOW how the Easter bunny and Easter eggs originated, but don't find it necessary for my kids to know at this time, what's the point? – plus that's not why we celebrate with these activities – we do these activities because they are fun. Plain and simple. Speaking of my mom better get me my hollow chocolate bunny – she's still the Easter bunny don't ya know, hehe!!
So what about you? Do you take your kiddos to see the Easter bunny? Leave a comment or link up and let me know your thoughts!