Welcome to Week 25 of Friendly Debates With The Danielles!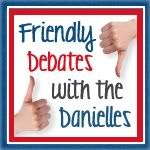 Each Sunday evening Danielle from "We Don't Have It All Together, But Together We Have It All" and I will host this awesome meme and we would love for you to link up and join us. There will be a question each week that will require you to think about how you feel about a certain topic and to decide where you stand regarding that topic, then of course share those thoughts!
We do have a few rules… or rather guidelines… that we would appreciate being followed:
1.) Please follow the hosts via GFC: Danielle B. & Danielle H.
2.) If you link up please leave a comment so we can visit you.
3.) This is a meme, so you MUST answer the question in a blog post.
4.) Link directly to the blog post in which you answer the question.
5.) Grab the button and place either in your post or on your blog.
(You can find the html code in my right side bar).
6.) At the end of your post leave a suggestion for the following weeks topic.
If we choose your suggestion you will be mentioned and linked to in the following weeks post.
AND THE MOST IMPORTANT RULE
Please respect each others opinions. This means no bashing of other bloggers in comments on their posts. Kind words and genuine questions are encouraged. If you strongly disagree with someone else the place to address your view point is in a post on your own blog. If we find that you have blatantly disregarded this you will be removed from the linky.
TOPIC
Placenta Encapsulation: Yay or Nay? What do YOU say?
I say YAY – even though I haven't done it before. The only reason I haven't done it before is honestly because I knew nothing about it. When Dilly and Sugar were born the placenta was just this yucky thing that came out afterwards and it got tossed in the trash. Thinking about that now makes me really sad – after all that organ kept my child alive through my pregnancy – it gave them life and I just let the hospital throw it in the trash? And so this time around with Baby Girl I really want to have my placenta encapsulated.
So what exactly is Placenta Encapsulation?
To explain as simply as possible the placenta is steamed, dehydrated, and ground up. This powder is then put into capsules which the new mother takes one or more of each day. You can hire someone to do this for you – which can be pricey – or you can do it yourself. There are some
great tutorials online for completing the process yourself. I suggest checking out Wandering Dona because she includes great pictures.
So now that you know what placenta encapsulation is I bet you are wondering why on earth anyone would want to do this? Well there are lots of awesome benefits!
– contain your own natural hormones
– be perfectly made for you
– balance your system
– replenish depleted iron
– give you more energy
– lessen bleeding postnatally
– been shown to increase milk production
– help you have a happier postpartum period
– hasten return of uterus to pre-pregnancy state
Seriously…. those are some awesome benefits! All from something that typically gets tossed in the trash, well at least in the United States. I personally know that for me after Dilly and Sugar were born I had hardly any energy because of the amount of blood lost and then the nearly 8 weeks of postnatal bleeding, so if I can lessen that I would be ecstatic. And if it helps me to balance back out emotionally after birth that would be a tremendous help as well. I remember after Sugar was born crying because I felt like when I was holding her I should be playing with Dilly and when I was playing with Dilly that I should be holding Sugar….. boy oh boy was I an emotional wreck. So that is definitely why I want to try out placenta encapsulation this time around, but did you know there are other things you can do with the placenta if you would like to celebrate this awesome organ, but not actually ingest it?
Placenta Art Prints
Plant a Placenta Fruit Tree
So what about you? Did you do anything with your placenta? Plan to do something with your placenta from future childbirths? I know the whole idea may sound gross…. especially for the squeamish, but I think it's really cool! And the more I look at those art prints I want to do that too….. so perhaps I will see if I can get a good print with just the blood that is on it and then go about the encapsulating process.
Make sure to leave a comment below letting me know your thoughts and link up to if you would like!