Welcome to Week 27 of Friendly Debates With The Danielles!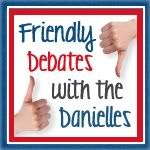 Each Sunday evening Danielle from "We Don't Have It All Together, But Together We Have It All" and I will host this awesome meme and we would love for you to link up and join us. There will be a question each week that will require you to think about how you feel about a certain topic and to decide where you stand regarding that topic, then of course share those thoughts!
We do have a few rules… or rather guidelines… that we would appreciate being followed:
1.) Please follow the hosts via GFC: Danielle B. & Danielle H.
2.) If you link up please leave a comment so we can visit you.
3.) This is a meme, so you MUST answer the question in a blog post.
4.) Link directly to the blog post in which you answer the question.
5.) Grab the button and place either in your post or on your blog.
(You can find the html code in my right side bar).
6.) At the end of your post leave a suggestion for the following weeks topic.
If we choose your suggestion you will be mentioned and linked to in the following weeks post.
AND THE MOST IMPORTANT RULE
Please respect each others opinions. This means no bashing of other bloggers in comments on their posts. Kind words and genuine questions are encouraged. If you strongly disagree with someone else the place to address your view point is in a post on your own blog. If we find that you have blatantly disregarded this you will be removed from the linky.
TOPIC
Taking His Last Name: Yay or Nay? What do YOU say?
I have to say when Dustin and I got married there wasn't even a thought in my mind about whether or not I would take his last name.  I just knew I was.  I was proud to be his wife and for us to be starting our own family.  Plus I knew that when we eventually had kids they would have his last name as well.  And so it only made sense to me that we all have the same last name and could be easily identified as a family.
With that being said I can understand why some women would want to keep their birth name.  Perhaps they are established in their profession, feel that
they will lose a sense of self identity, or their families name will no longer be carried on if they do not keep it.  Some people also worry that if they get divorced then what will they do having their husband's last name…. but in my opinion if you are going into a marriage thinking about the what if's of divorce you shouldn't be getting married in the first place – just sayin.
And did you know that there are more options than just keeping your own name or taking your husbands?  The man can take the woman's name.  The woman can hyphenate the two names.  The woman can take her birth name as her middle name and her husband's name as her last name.  And people have even started merging the last two names to create an entirely new last name.  None of those options even went through my mind though.  And I'll be honest with you I was a bit relieved to see my maiden name go….. ya see, my maiden name was "Rusnak" and no one could ever pronounce it correctly.  They would either say something along the lines of "Roo-snak" or "Rus-nick" and I just wanted to scream.  Imagine my relief when the man I fell in love with had the last name Harper – something that only an idiot could mispronounce, hehe.  And in terms of my blog I think Mama Harper sounds much better than Mama Rusnak, but obviously that wasn't a thought at the time either… just something random I thought of now, haha.
And so…. for me taking my husband's name was the right choice and I wouldn't change that decision for anything.  Our name is proudly displayed around our home in little wooden blocks on the fireplace mantle, on our front door, and even at the top of my blog.  I am proud to be Danielle Harper.
How about one more wedding picture just for giggles? Hehe.
So what about you?  Did you or do you plan on taking your hubby's name?  Why or why not?  Leave me a comment or link up – I'd love to hear your thoughts.