Welcome to Week 32 of Friendly Debates With The Danielles!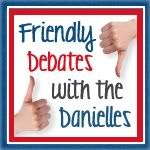 Each Sunday evening Danielle from "We Don't Have It All Together, But Together We Have It All" and I will host this awesome meme and we would love for you to link up and join us. There will be a question each week that will require you to think about how you feel about a certain topic and to decide where you stand regarding that topic, then of course share those thoughts!
We do have a few rules… or rather guidelines… that we would appreciate being followed:
1.) Please follow the hosts via GFC: Danielle B. & Danielle H.
2.) If you link up please leave a comment so we can visit you.
3.) This is a meme, so you MUST answer the question in a blog post.
4.) Link directly to the blog post in which you answer the question.
5.) Grab the button and place either in your post or on your blog.
(You can find the html code in my right side bar).
6.) At the end of your post leave a suggestion for the following weeks topic.
If we choose your suggestion you will be mentioned and linked to in the following weeks post.
AND THE MOST IMPORTANT RULE
Please respect each others opinions. This means no bashing of other bloggers in comments on their posts. Kind words and genuine questions are encouraged. If you strongly disagree with someone else the place to address your view point is in a post on your own blog. If we find that you have blatantly disregarded this you will be removed from the linky.
TOPIC
Real Names vs Nick Names While Blogging: Yay or Nay? What do YOU say?
I've been on both sides of this debate.  When I started my blog in August of 2010 I immediately began using nicknames for my girls.  I didn't want people to know their real names or be able to easily track them down since there are so many creepy people in this world.  I continued with the nicknames for them until well a few days ago.  I always used real names for any adults I mentioned on my blog though.  And then I realized something…. a few of the blogs that I read on a daily basis use their kiddos real names and I kind of envied them for being able to share their names with the world.  I love my daughters names – why else would I have given them those names?  And I decided I wanted to share them with everyone.  Plus let's be honest if someone really wanted to figure out my kid's names or anything about us for that matter it could be accomplished within a matter of minutes, maybe seconds.  And so I have decided to start using their real names… though I have a feeling I will go back and forth because I have gotten so accustomed to using their nick names for almost the past two years.
And so what are your thoughts?  Do you write a blog? If so do you use your kiddo's real names, nick names, maybe initials?  I really don't think there is a right or wrong answer…. pretty much just whatever works for your situation.  Leave me a comment or link up and let me know!