Welcome to Week 34 of Friendly Debates With The Danielles!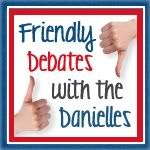 Each Sunday evening Danielle from "We Don't Have It All Together, But Together We Have It All" and I will host this awesome meme and we would love for you to link up and join us. There will be a question each week that will require you to think about how you feel about a certain topic and to decide where you stand regarding that topic, then of course share those thoughts!
We do have a few rules… or rather guidelines… that we would appreciate being followed:
1.) Please follow the hosts via GFC: Danielle B. & Danielle H.
2.) If you link up please leave a comment so we can visit you.
3.) This is a meme, so you MUST answer the question in a blog post.
4.) Link directly to the blog post in which you answer the question.
5.) Grab the button and place either in your post or on your blog.
(You can find the html code in my right side bar).
6.) At the end of your post leave a suggestion for the following weeks topic.
If we choose your suggestion you will be mentioned and linked to in the following weeks post.
AND THE MOST IMPORTANT RULE
Please respect each others opinions. This means no bashing of other bloggers in comments on their posts. Kind words and genuine questions are encouraged. If you strongly disagree with someone else the place to address your view point is in a post on your own blog. If we find that you have blatantly disregarded this you will be removed from the linky.
TOPIC
Dating/Marrying Outside Your Race: Yay or Nay? What do YOU say?
I'm going to come at this topic from the view point if one of my daughter's were to bring someone home that was outside our race…. which I have no clue what we are anyhow.  I mean ya we are "white," but there is some Italian, Native American, Irish, and more in us…. and I'm really not "white" – have you seen a white crayon?  And so you wanna know what I think when someone refers to me as "white….. THIS.
And from what I just said you probably know my feelings on interracial dating and marriage.  I want my girls to end with the person that they love… that will treat them with respect… that will stand by them through thick and thin…. someone that is a good person.  And that person isn't necessarily going to be "white."  They could be any color under the sun and that is perfectly fine with me.  If they make my daughters smile and are the one for them then they are the one for me too and will be welcomed into my home with open arms.
In fact some of my favorite bloggers married someone outside of their race!  Below is Tree from Mother of Pearl It Is….  how cute are they??
I'd also like to introduce you to Ashley from And The Little Ones Too – her boys are just too stinkin cute!
And just one more… this is April and her hubby from Mama On a Green Mission.  I think they make an absolutely gorgeous couple!
Now I will be honest and tell you I never even thought about bringing someone home that was a different race from me because my father would have blown a head gasket.  He has tons of friends that are different skin colors than he is, but he doesn't believe in dating or marrying outside your race.  Sometimes I wish I had done it just to make him think outside the box.  I do think that society in general is becoming more excepting of interracial relationships and I think that is awesome!  My girls will never have to think twice about introducing me to their boyfriend regardless of his skin tone.
So what are your thoughts?  Link up or leave a comment and let me know!