Welcome to Week 35 of Friendly Debates With The Danielles!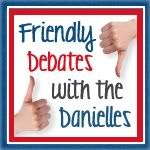 Each Sunday evening Danielle from "We Don't Have It All Together, But Together We Have It All" and I will host this awesome meme and we would love for you to link up and join us. There will be a question each week that will require you to think about how you feel about a certain topic and to decide where you stand regarding that topic, then of course share those thoughts!
We do have a few rules… or rather guidelines… that we would appreciate being followed:
1.) Please follow the hosts via FaceBook: Danielle B. & Danielle H.
2.) If you link up please leave a comment so we can visit you.
3.) This is a meme, so you MUST answer the question in a blog post.
4.) Link directly to the blog post in which you answer the question.
5.) Grab the button and place either in your post or on your blog.
(You can find the html code in my right side bar).
6.) At the end of your post leave a suggestion for the following weeks topic.
If we choose your suggestion you will be mentioned and linked to in the following weeks post.
AND THE MOST IMPORTANT RULE
Please respect each others opinions. This means no bashing of other bloggers in comments on their posts. Kind words and genuine questions are encouraged. If you strongly disagree with someone else the place to address your view point is in a post on your own blog. If we find that you have blatantly disregarded this you will be removed from the linky.
TOPIC
Push Presents: Yay or Nay? What do YOU say?
I say…. to each their own.
I want to start off by explaining what a push present is though because it is a relatively new concept that many people are not familiar with.  A push present is simply a gift that your significant other would present to the mom after giving birth whether it be "pushing" the baby out or delivering via a c-section.  It could be anything from jewelry to a new purse – anything that would make momma happy.
Now for me I really don't need anything other than that beautiful baby staring up at me.  That is my push present.  However, I also know that my hubby is not one that would get me an actual push present…. and so why be excited for something that I know is not going to happen anyhow? Hehe.  He's just not the gift giving type…. mother's day, valentine's day, Christmas, my birthday? Nada.  But really it's no big deal… after 5 years of marriage I am used to it.  But what I do realize is that he does give me a present.  After both of our daughters were born he took that following week off from work and did just about everything around the house except the only thing he couldn't – breastfeeding.  And that is the best present I could ever ask for.
But if you are dying for that special push present you might want to hint to the hubby, because chances are he has no clue what one even is, hehe.
Here are some ideas…
1.)  Digital Camcorder or Camera to capture the special moments.
2.)  Diamond Earrings – though I suggest studs, babies love dangly things.

3.)  A Rocking Chair for the nursery.
4.)  A Love Letter – how romantic!
5.)  A Family Pendant – every momma loves jewelry.
6.)  Birthstone Jewelry – necklace, ring…
7.)  New Baby Figurine – think Willow Tree… I love those!
8.)  Workout DVD – though I may punch my hubby, hehe.
9.)  Artwork to display in your home.
10.)  Perfume…. to cover up the spit up smell, hehe.
Or just ask him to help out around the house more than usual like my hubby did… seriously you probably will appreciate that much much more than any actual gift.  I know I did and I hope he intends to give me that same gift when little Willow Jean arrives in a few weeks!
So what are your thoughts on push presents?  Did your significant other get you one?  Did you wish he had?  Leave me a comment or link up!