Welcome to Week 36 of Friendly Debates With The Danielles!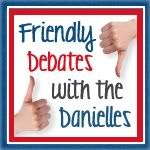 Each Sunday evening Danielle from "We Don't Have It All Together, But Together We Have It All" and I will host this awesome meme and we would love for you to link up and join us. There will be a question each week that will require you to think about how you feel about a certain topic and to decide where you stand regarding that topic, then of course share those thoughts!
We do have a few rules… or rather guidelines… that we would appreciate being followed:
1.) Please follow the hosts via FaceBook: Danielle B. & Danielle H.
2.) If you link up please leave a comment so we can visit you.
3.) This is a meme, so you MUST answer the question in a blog post.
4.) Link directly to the blog post in which you answer the question.
5.) Grab the button and place either in your post or on your blog.
(You can find the html code in my right side bar).
6.) At the end of your post leave a suggestion for the following weeks topic.
If we choose your suggestion you will be mentioned and linked to in the following weeks post.
AND THE MOST IMPORTANT RULE
Please respect each others opinions. This means no bashing of other bloggers in comments on their posts. Kind words and genuine questions are encouraged. If you strongly disagree with someone else the place to address your view point is in a post on your own blog. If we find that you have blatantly disregarded this you will be removed from the linky.
TOPIC
Visitors After Baby Arrives: Yay or Nay? What do YOU say?
This is really a personal preference and I thought it would be a perfect topic since Danielle B. just gave birth to the most adorable baby ever – Jack… oh and be sure to check out his birth story once you're done with the debate!
So for me….. during the labor and delivery I want my hubby, children, mom, and sister present in the actual room which means of course they will all be there once Willow arrives.  This doesn't mean they all will be holding her immediately because those first few hours are very crucial for mommy bonding and developing a successful breastfeeding relationship.  Once I have successfully breastfed I welcome our immediate family into the room…. this means parents, siblings, nieces and nephews.

My parents and Alleigh soon after Kaelyn's birth.
After a few hours have gone by…. or the next day if the delivery was later in the day which both Alleigh and Kaelyn were…. then I am fine with extended family and friends coming in and out for short visits.  I prefer them to call first and ask if we would be ok with them stopping by as you never know how we will be doing and I really think that is common courtesy.

My grandparents meeting Alleigh when she was 1 day old.
I also would much prefer those that want to see the baby to come visit while we are still at the hospital.  And here is the reason why.  Many people think that I want to rest and relax while in the hospital which is what I am doing!  The nurses are there to help me… so if you come visit I can sit in the bed or chair and just talk to you.  If you wait until I am home then I feel the need to entertain you…. ask you if you want a drink, make sure my house is spick and span, etc.  Not to mention that we are trying to get settled into a routine.  My older girls will be adapting to having a newborn in the house and we will still be enforcing their daily schedules that include naps and such.  And so I really would prefer visitors at home after being there for about two to three days – though this does not include parents and siblings.  I don't feel the need to "entertain" those people and know they are stopping by to help.
I also know that when a new baby arrives everyone wants to see them and hold them – it's a joyous occasion that deserves being celebrated.  But before just dropping in on a new mom give her a call or a text and see if she is ready for visitors.  Oh and here is another tip.. instead of saying "if you need anything feel free to ask" offer something specific…. "would you like me to bring dinner over for your family" or "could I take your older kiddos to the park for a few hours?"  Those would both be music to my ears!
Oh and something else I want to mention is that these are my choices from giving birth to two full term healthy babies…. if I would be to have a preemie or another reason to be concerned about an abundance of germs being around my child the amount of visitors would be very limited.  So what are your thoughts on visitors after baby arrives?  Leave me a comment or link up and let me know.