Welcome to Week 40 of Friendly Debates With The Danielles!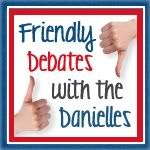 Each Sunday Danielle from "We Don't Have It All Together, But Together We Have It All" and I will host this awesome meme and we would love for you to link up and join us. There will be a question each week that will require you to think about how you feel about a certain topic and to decide where you stand regarding that topic, then of course share those thoughts!
We do have a few rules… or rather guidelines… that we would appreciate being followed:
1.) Please follow the hosts via FaceBook: Danielle B. & Danielle H.
2.) If you link up please leave a comment so we can visit you.
3.) This is a meme, so you MUST answer the question in a blog post.
4.) Link directly to the blog post in which you answer the question.
5.) Grab the button and place either in your post or on your blog.
(You can find the html code in my right side bar).
6.) At the end of your post leave a suggestion for the following weeks topic.
If we choose your suggestion you will be mentioned and linked to in the following weeks post.
AND THE MOST IMPORTANT RULE
Please respect each others opinions. This means no bashing of other bloggers in comments on their posts. Kind words and genuine questions are encouraged. If you strongly disagree with someone else the place to address your view point is in a post on your own blog. If we find that you have blatantly disregarded this you will be removed from the linky.
TOPIC
Babies in Movie Theaters: Yay or Nay? What do YOU say?
Before I begin talking about my opinion of taking babies into movie theaters I want to say a few things.  When Danielle B. and I are searching for debate topics sometimes we use something that is on our mind or things we have seen trending on Facebook and/or Twitter.  This topic has definitely been discussed on all social media outlets in light of the Colorado theater shooting.  My thoughts and prayers go out to those families that suffered losses from this horrific incident and to those healing from injuries that occurred as a result as well.
And now my opinion…. for me I say nay to actual movie theaters.
I feel this way for a few reasons.  First of all movies theaters can be very loud and I would not want to expose my little ones delicate ears to unnecessary noise.  Also, babies cry.  I would feel awful if I disturbed someone else's move going experience because my child started fussing.  Even if I sat in the seat closest to the exit there is the chance they would start crying during an important part in the movie and well there are no rewind buttons at the theater.  Since I don't agree with taking little ones to the actual movie theater until they are old enough to sit through an age appropriate movie – think Disney, etc – I came up with an alternative that works well for us.
Ya see, I exclusively breast feed for the first six months and then continue to breast feed with food introduced to a minimum of 12 months old – usually longer.  And so for those first six months there would be no movie going for me because I really can't stand pumping and don't see a reason for my baby to be given a bottle just because I want to see a movie.  So instead we go to the drive in theater – yes, those still exist, hehe!  At the drive in we can relax in our own car and have the volume at a reasonable level that will not harm our babies ears.  Plus if she starts crying no one else will hear her and if they do it will be a very muffled sound.
And so that is what works for us.  Once my little ones get old enough to stay with a baby sitter – usually their Nana or Aunt Courtney – then we will attend movies in theaters, but I really do love the drive in!  I will admit if I see a young child in a movie theater I do cringe a bit just thinking about the effect of the sound on their little ears and in anticipation of them crying.  But I do realize that this is the parents decision and not mine.  We all raise our children differently and what's right for me might not be right for you.
So what is your opinion?  Leave me a comment or link up.