Welcome to Week 38 of Friendly Debates With The Danielles!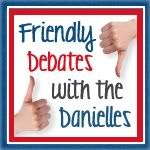 Each Sunday evening Danielle from "We Don't Have It All Together, But Together We Have It All" and I will host this awesome meme and we would love for you to link up and join us. There will be a question each week that will require you to think about how you feel about a certain topic and to decide where you stand regarding that topic, then of course share those thoughts!
We do have a few rules… or rather guidelines… that we would appreciate being followed:
1.) Please follow the hosts via FaceBook: Danielle B. & Danielle H.
2.) If you link up please leave a comment so we can visit you.
3.) This is a meme, so you MUST answer the question in a blog post.
4.) Link directly to the blog post in which you answer the question.
5.) Grab the button and place either in your post or on your blog.
(You can find the html code in my right side bar).
6.) At the end of your post leave a suggestion for the following weeks topic.
If we choose your suggestion you will be mentioned and linked to in the following weeks post.
AND THE MOST IMPORTANT RULE
Please respect each others opinions. This means no bashing of other bloggers in comments on their posts. Kind words and genuine questions are encouraged. If you strongly disagree with someone else the place to address your view point is in a post on your own blog. If we find that you have blatantly disregarded this you will be removed from the linky.
TOPIC
Privacy Between Couples Regarding Technology:
Yay or Nay? What do YOU say?
My mind is in a bit of a scramble today so I hope I make sense in my response to this topic and not start jumping all over the place, hehe.
Dustin and I have been together for almost 6 years and married for a lil over 5.  And I really have no clue when in that time span he learned my passwords to facebook/e-mail/twitter, unlock code to my cell phone, or PIN to my debit card… but he knows them – and if I had a decent memory I would know all of those for him too, but all I have to do is ask and he tells me.  And here is why – TRUST.  We have nothing to hide and so there is no reason to keep these passwords, unlock codes, PIN's private.
And since we have nothing to hide this means I could care less if Dustin picks up my cell phone and tells me who is calling, looks at my pictures, or reads me a text.  I leave my computer open with my Facebook account logged in because I don't have a care in the world about him seeing anything on it.  And regarding knowing the PIN on my debit card – well that really doesn't matter because we have a joint checking account and have since we moved in together after about a month or so of dating!  But this is a mutual feeling… somehow over the course of our relationship it came to be known that this was perfectly fine – that neither of us had a problem at all with it.
What I don't agree with is couples that feel the need to snoop on each other.  If you have that gut feeling that something bad is going on well then one of two things will probably answer that.  One – that there is indeed cheating or some sort of lying going on.  Or two – that you are just absolutely paranoid, have been hurt in the past, and just can not bring yourself to trust someone.  Either way it probably means you need couples counseling or if you aren't yet married to just get yourself out of the situation.  Once you don't trust someone and feel the need to snoop on their technological devices that trust is most likely never going to return.
And so no I do not believe in snooping because I do not believe in being in a relationship where I do not trust the person.  Before you feel the need to snoop in someone's computer or cell phone, why not just ask them?  Makes much more sense to me.
So what are your thoughts on this topic?  Does your spouse or significant other know your passwords or have access to your personal accounts?  Leave me a comment or link up and let me know your thoughts!