Welcome to Week 43 of Friendly Debates With The Danielles!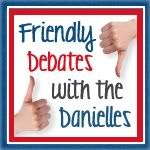 Each Sunday Danielle from "We Don't Have It All Together, But Together We Have It All" and I will host this awesome meme and we would love for you to link up and join us. There will be a question each week that will require you to think about how you feel about a certain topic and to decide where you stand regarding that topic, then of course share those thoughts!
We do have a few rules… or rather guidelines… that we would appreciate being followed:
1.) Please follow the hosts via FaceBook: Danielle B. & Danielle H.
2.) If you link up please leave a comment so we can visit you.
3.) This is a meme, so you MUST answer the question in a blog post.
4.) Link directly to the blog post in which you answer the question.
5.) Grab the button and place either in your post or on your blog.
(You can find the html code in my right side bar).
6.) At the end of your post leave a suggestion for the following weeks topic.
If we choose your suggestion you will be mentioned and linked to in the following weeks post.
AND THE MOST IMPORTANT RULE
Please respect each others opinions. This means no bashing of other bloggers in comments on their posts. Kind words and genuine questions are encouraged. If you strongly disagree with someone else the place to address your view point is in a post on your own blog. If we find that you have blatantly disregarded this you will be removed from the linky.
TOPIC
Baby On Board Signs: Yay or Nay? What do YOU say?
I'm sure you know exactly the signs I am talking about.  Those diamond shaped yellow signs that let every car around you on the road know that there is in deed a baby in your car.  When I first found out I was pregnant with Alleigh I was all about having one of these signs for our car.  I wanted to shout from the roof tops that I was pregnant and even more so once she actually got here.  But that was the only reason I wanted one…. just because I thought they were cute.
I really don't see the thought process of "if I put this on my car it will make other people around me drive safer."  If anything it's just going to distract those already reckless drivers even more because their looking at this bright yellow dangly sign in the back of your vehicle.
So I guess long story short I think their kinda stupid.  I have never actually had one hanging in my car and don't ever intend to…. but if you think their cute or will help protect your bundle of joy – all the power to ya, hehe.
Oh and just for a giggle….
So what do you think? Leave me a comment or link up and let me know.