Welcome to Week 45 of Friendly Debates With The Danielles!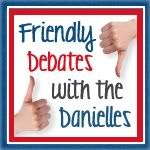 Each Sunday Danielle from "We Don't Have It All Together, But Together We Have It All" and I will host this awesome meme and we would love for you to link up and join us. There will be a question each week that will require you to think about how you feel about a certain topic and to decide where you stand regarding that topic, then of course share those thoughts!
We do have a few rules… or rather guidelines… that we would appreciate being followed:
1.) Please follow the hosts via FaceBook: Danielle B. & Danielle H.
2.) If you link up please leave a comment so we can visit you.
3.) This is a meme, so you MUST answer the question in a blog post.
4.) Link directly to the blog post in which you answer the question.
5.) Grab the button and place either in your post or on your blog.
(You can find the html code in my right side bar).
6.) At the end of your post leave a suggestion for the following weeks topic.
If we choose your suggestion you will be mentioned and linked to in the following weeks post.
AND THE MOST IMPORTANT RULE
Please respect each others opinions. This means no bashing of other bloggers in comments on their posts. Kind words and genuine questions are encouraged. If you strongly disagree with someone else the place to address your view point is in a post on your own blog. If we find that you have blatantly disregarded this you will be removed from the linky.
TOPIC
Eating Before You Pay: Yay or Nay? What do YOU say?
Ok, let's picture this situation.  You are trying to get your grocery shopping done when all of a sudden the little one with you starts wailing about how hungry they are….or your own stomach starts growling uncontrollably….. what do you do?
If opening up a box of crackers and giving your child a few will stop the wailing I honestly don't see a problem with it – IF YOU BUY IT!  Letting your child eat something and then sticking the box back on the shelf…. totally wrong on so many levels – gross, stealing – just plain wrong.  I was never so mad as when I bought a can of
Pringles chips and then realized they had already been opened.  Urgh.
Now there are ways to avoid this happening.  I always make sure to pack small snacks in the diaper bag if I know my kids are going to be getting hungry.  And let's face it when all that food is staring at ya in the grocery store aisles they are gonna magically get hungry even if you just fed them before you left the house.  Though I really hate taking my kiddos to the grocery store because I always end up spending more if I take them, so I tend to wait til Dustin is home and hit the grocery store alone.  Much much easier that way – at least for me.
And I will be 100% honest with you.  One time when I was grocery shopping and pregnant I felt my blood sugar dropping.  I was right in the check out lane and had to grab a little package of crackers and open them up and shove some in my mouth for fear I was gonna pass out.  I paid for them immediately and don't see anything wrong with having to do that.  Now after that incident I always made sure to keep a small snack available for me at all times too.
But anyhow…. to me not a big deal… but only if you pay.  What do you think?  Leave me a comment or link up and let me know!