Welcome to Week 42 of Friendly Debates With The Danielles!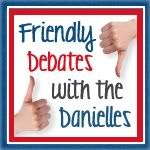 Each Sunday Danielle from "We Don't Have It All Together, But Together We Have It All" and I will host this awesome meme and we would love for you to link up and join us. There will be a question each week that will require you to think about how you feel about a certain topic and to decide where you stand regarding that topic, then of course share those thoughts!
We do have a few rules… or rather guidelines… that we would appreciate being followed:
1.) Please follow the hosts via FaceBook: Danielle B. & Danielle H.
2.) If you link up please leave a comment so we can visit you.
3.) This is a meme, so you MUST answer the question in a blog post.
4.) Link directly to the blog post in which you answer the question.
5.) Grab the button and place either in your post or on your blog.
(You can find the html code in my right side bar).
6.) At the end of your post leave a suggestion for the following weeks topic.
If we choose your suggestion you will be mentioned and linked to in the following weeks post.
AND THE MOST IMPORTANT RULE
Please respect each others opinions. This means no bashing of other bloggers in comments on their posts. Kind words and genuine questions are encouraged. If you strongly disagree with someone else the place to address your view point is in a post on your own blog. If we find that you have blatantly disregarded this you will be removed from the linky.
TOPIC
Tattoos: Yay or Nay? What do YOU say?
So I am coming at this on my personal view point on tattoos on myself.  And that is a big fat yes, hehe.  In fact I currently have five tattoos.  I say currently because I am contemplating something in my head right now that incorporates all my kiddos names… just not sure exactly what or where yet.
I do think that lots of thought should go into tattoos…. after all they are rather permanent.  Yes, you can spend tons of money to have them removed, but chances are you will end up with some scarring there.  My absolute favorite tattoo is on the top of my right foot.  It has two impatiens, a ladybug, vines, my grams name, birth year, and the year she passed away.  That tattoo is actually in memory of the grandma that Willow is being named after… well not after, but in memory of since she also loved the name Willow.  I also have a butterfly that matches my mom.  Oh and I have my wedding date under my wedding ring, but I still can't convince Dustin to get a matching one.  He's not a tattoo guy, hehe.  Here are just a few pictures of my tattoos.  I totally realized I shoulda put on some lotion before snapping these pictures and not to mention I am rather puffy from being 38 weeks pregnant.  Oh well….
A couple other things…. I don't like tattoos that remind me of evil or demonic things like snakes or skulls.  And I also prefer tattoos that can be covered up if the need should arise.  I used to work as a bank teller before having my kids and I was also attending college to eventually become a teacher so I made sure to get my tattoos all in places that they could be easily concealed.
I have had a few people ask what I would do if my children ever asked to get a tattoo.  Well here is my response.
First of all we live in Ohio and in Ohio the law states – It is illegal to tattoo, body pierce or pierce the ears of anyone under age 18 without the consent of the minor's parent, guardian or custodian. Requires the consenting individual to appear in person at the business at the time the procedure is performed and sign a document that provides informed consent.
And no they would not be getting that consent before the age of 18.  Once they are an "adult" they can make tattoo decisions on their own, however, I would like them to take into consideration the pros and cons of the design they are choosing and where they are placing it on their body before making a final decision.  I do have a tattoo that I really could care less for and it was a spur of the moment decision I wish I had not made, but that's life.
So I say YAY!  For well thought out and placed tattoos done by experienced professionals.  I remember reading a sign similar to this in a tattoo shop once…. and it's definitely something to consider before getting a tattoo.
So what are your thoughts on tattoos?  Do you have any?  Wish you had some?  Hate them?  Leave a comment and let me know or link up!