My smart phone is always with me.  ALWAYS.  I use it for so many things… obviously making phone calls and sending texts, but I am also constantly checking and replying to e-mails, reading comments on my blog, hopping on Facebook, checking the weather, playing games, taking pictures.  You get the idea – I would be lost without my phone.  I always worried that Alleigh or Kaelyn would be the one to break my beloved smart phone especially once I downloaded several apps for them to play on it and it practically became their phone.  But no…. that's not what happened.
Rewind back to the fourth of July of this year.  We had family over to celebrate and were grilling out.  I was rather hugely pregnant and hot.  I walked outside and while standing on the cement sidewalk I attempted to put my hair in a pony tail while still holding my phone.  Every girl knows it requires two hands to put your hair in a pony tail – unless your some sort of magician – so I have no idea how I thought holding my phone was going to work.  Then in what seemed like slow motion my phone slipped out of my hand and went falling to the cement sidewalk.  There was nothing I could do but watch in horror as it landed screen side down.  I didn't want to pick it up because I knew what I would find… and I was right.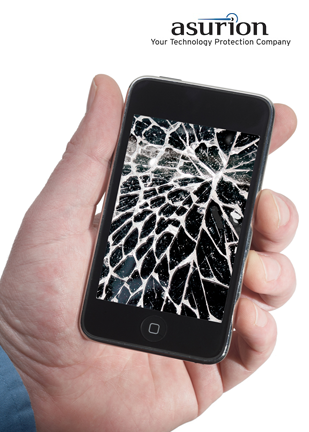 Shattered.  Completely shattered.
The phone still worked, but as I slid my finger tip across the now shattered touch screen I could feel little shards of glass poking into my skin.  Luckily I have always kept insurance on our phones.  Sure the extra few bucks a month may not seem worth it, but when something this tragic happens you will be thankful for it.  Your screen may not be shattered… perhaps it gets dropped in a muddy puddle or slobbered on by a baby.  Maybe your phone get's lost or stolen.  Anything could happen!  But thanks to my Asurion Insurance after a quick phone call my new phone was on it's way to me complete with a mailing label to send back my broken device.
The moral of this story is to make sure you have Asurion insurance on your phone because chances are you won't have an extra $400-$500 sitting around to shell out for a new smart phone.  And so the complete Asurion protection package, available through most wireless carriers, provides consumers with (1) Software that protects mobile data against the growing number of cell phone/smartphone threats and helps them locate a lost or stolen phone and (2) A replacement device, usually overnight, in the event a phone is lost, damaged (even water damaged) or stolen.
Here are the facts of mobile mishaps…. the choice is yours, but when this happens to you – because it most likely will – if you have Asurion Insurance you will be a much happier person.  Trust me.

Content and/or other value provided by our partner, Asurion.
Has this happened to you?