Welcome to Week 50 of Friendly Debates With The Danielles!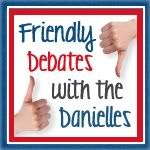 Each Sunday Danielle from "We Don't Have It All Together, But Together We Have It All" and I will host this awesome meme and we would love for you to link up and join us. There will be a question each week that will require you to think about how you feel about a certain topic and to decide where you stand regarding that topic, then of course share those thoughts!
We do have a few rules… or rather guidelines… that we would appreciate being followed:
1.) Please follow the hosts via FaceBook: Danielle B. & Danielle H.
2.) If you link up please leave a comment so we can visit you.
3.) This is a meme, so you MUST answer the question in a blog post.
4.) Link directly to the blog post in which you answer the question.
5.) Grab the button and place either in your post or on your blog.
(You can find the html code in my right side bar).
6.) At the end of your post leave a suggestion for the following weeks topic.
If we choose your suggestion you will be mentioned and linked to in the following weeks post.
AND THE MOST IMPORTANT RULE
Please respect each others opinions. This means no bashing of other bloggers in comments on their posts. Kind words and genuine questions are encouraged. If you strongly disagree with someone else the place to address your view point is in a post on your own blog. If we find that you have blatantly disregarded this you will be removed from the linky.
TOPIC
Boys With Long Hair:  Yay or Nay? What do YOU say?
I say it depends….. but actually lean more towards yay.
About eight years ago or so I worked at a daycare center and there was a little boy named River (loved his name too) who had the most adorable shaggy cut shoulder length hair.  He was such a sweet, laid back, well behaved little boy and ever since then I have had a fondness for little boys with long locks.  I just think their so stinkin cute.  Just check out these adorable boys of celeb mommies – I just love it.

Photo Credit:  Pascal Le Segretain/Getty Images; WENN; Oliver/Flynet

IF we were ever to have a little boy I am almost positive during his toddler years I would keep his hair long…  but I wouldn't force him keep his hair long.  Once he would be old enough to communicate his own opinion on the length of his hair if he asked to have it cut shorter I would definitely do that too.  I think the length of a child's hair isn't really something worth battling over.  If my son wanted his hair long – that's great.  Short?  Great too.  Shaved?  Fine by me.  Mohawk?  Go for it little man.
The only argument I could even see someone making against a little boy having long hair is that people might mistake them for a girl, but if their wearing boy clothes I don't see that being a problem.  And as a mom I wouldn't have a problem correcting people either – so no biggie.  I don't even know how many times people have referred to my baby girls as boys and I really could have cared less.
So what are your thoughts?  Do you have a son with long hair?  Just think boys with long hair are stinkin cute like me?  Or the complete opposite?  Leave me a comment or link up and let me know!