Welcome to Week 48 of Friendly Debates With The Danielles!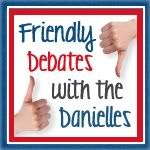 Each Sunday Danielle from "We Don't Have It All Together, But Together We Have It All" and I will host this awesome meme and we would love for you to link up and join us. There will be a question each week that will require you to think about how you feel about a certain topic and to decide where you stand regarding that topic, then of course share those thoughts!
We do have a few rules… or rather guidelines… that we would appreciate being followed:
1.) Please follow the hosts via FaceBook: Danielle B. & Danielle H.
2.) If you link up please leave a comment so we can visit you.
3.) This is a meme, so you MUST answer the question in a blog post.
4.) Link directly to the blog post in which you answer the question.
5.) Grab the button and place either in your post or on your blog.
(You can find the html code in my right side bar).
6.) At the end of your post leave a suggestion for the following weeks topic.
If we choose your suggestion you will be mentioned and linked to in the following weeks post.
AND THE MOST IMPORTANT RULE
Please respect each others opinions. This means no bashing of other bloggers in comments on their posts. Kind words and genuine questions are encouraged. If you strongly disagree with someone else the place to address your view point is in a post on your own blog. If we find that you have blatantly disregarded this you will be removed from the linky.
TOPIC
Gender Specific Toys: Yay or Nay? What do YOU say?
Honestly, I say it's not my choice.
Instead it is Alleigh, Kaelyn, and Willow's choice and in our house it has always been that way. Just because we have a house full of girls does not mean the only toys you will find are "girl" toys like dolls, purses, pretend makeup and princess dress up clothes – though we have all that stuff too. But we also have matchbox cars, John Deer tractors, monster trucks…. in fact the girls Power Wheels is a Ford F-150 – not a Barbie car. And I love that my girls are so diverse. I think it is awesome that they want to play out in the dirt with their trucks while wearing their dresses with their fingernails painted.
But you are probably wondering… "Would Mama Harper feel the same way if she had a boy?" And guess what? The answer is yes. If I had a son and he wanted to play with a "girl" toy whether it be a doll, dress up clothes, or what have you that would be perfectly fine with me. If we went to the toy store and he picked out a "girl" toy I would buy that toy.
I really don't agree with teaching kids "this is for boys and this is for girls." Instead they should develop their own interests, likes, and dislikes without the influence of adults telling them what is appropriate for their gender. I would hate to think that I could possibly decide my daughter's future by telling her something like "trucks and cars are for boys"….. all of my girls absolutely love cars and trucks – what if their dream was to go into a profession that dealt with vehicles of some sort, but I crushed that at a young age by telling them it wasn't appropriate?
All I know is in my house my kiddos can play with whatever toy they choose and it doesn't matter to me if it is a "boy" or a "girl" toy as long as it makes them happy. If their happy – then momma is happy…. well as long as they clean up those toys when their finished playing, hehe.
So what do you think? Leave me a comment or link up and let me know.