Welcome to Week 47 of Friendly Debates With The Danielles!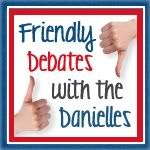 Each Sunday Danielle from "We Don't Have It All Together, But Together We Have It All" and I will host this awesome meme and we would love for you to link up and join us. There will be a question each week that will require you to think about how you feel about a certain topic and to decide where you stand regarding that topic, then of course share those thoughts!
We do have a few rules… or rather guidelines… that we would appreciate being followed:
1.) Please follow the hosts via FaceBook: Danielle B. & Danielle H.
2.) If you link up please leave a comment so we can visit you.
3.) This is a meme, so you MUST answer the question in a blog post.
4.) Link directly to the blog post in which you answer the question.
5.) Grab the button and place either in your post or on your blog.
(You can find the html code in my right side bar).
6.) At the end of your post leave a suggestion for the following weeks topic.
If we choose your suggestion you will be mentioned and linked to in the following weeks post.
AND THE MOST IMPORTANT RULE
Please respect each others opinions. This means no bashing of other bloggers in comments on their posts. Kind words and genuine questions are encouraged. If you strongly disagree with someone else the place to address your view point is in a post on your own blog. If we find that you have blatantly disregarded this you will be removed from the linky.
TOPIC
Kids & Cell Phones:  Yay or Nay? What do YOU say?
I'm only 27 years old, but it is seriously amazing how drastically things have
changed in about the last ten years or so.  When I was growing up I didn't have a cell phone.  Not until I turned eighteen, could pay for it myself, and could sign the contract.  My sister got her first cell phone around sixteen years old and the neighbor girl across the street has a phone now and she is only about twelve years old!  Now it is fair to say that when I was growing up home phones were still very common – all of my friends had home phone numbers that I could call if I wanted to invite them over or to chat.  In our home Dustin and I only have cell phones now so if the girls would want to talk to someone they would need to borrow our phones…. though the only people they ever ask to talk to is their Nana, Pap, or Aunt Courtney since they are only four and two years old right now, hehe.
So when do I think it is appropriate for a child to have a cell phone?  I really wish I could still say that I don't think they should have one until they turn 18, can pay for it themselves, and can sign their own contract like I did…. but I honestly do not think that is feasible any longer.  And so in our home my kids will have a child friendly cell phone once they are involved in activities
outside the home that they are dropped off at such as sports practice or dance classes where parents are not permitted to stay because I will want them to have a way to get a hold of me or Dustin in case of an emergency without having to depend on asking someone else to borrow their phone.  I have a feeling this will be somewhere around the age of eight to twelve years old though I can't be sure until the time comes.  Oh and by child friendly cell phone I am referring to a phone that can only call numbers that I have programmed in or emergency numbers.  The only phone numbers that would be programmed would be myself, Dustin, grandparents, perhaps aunts/uncles, and MAYBE a friend or two.  A great example is the LG VX 1000 Migo as I have pictured.
So when will they be able to have the high tech smart phones like mom and dad have?  This is something that Dustin and I will probably have to discuss further and how it will fit into our budget.  But for now I figure that once they have their drivers license is when I will allow them to have their own smart phone, however, they will be required to help pay a portion of the bill.  They will also be responsible for keeping their grades up or they will no longer have that phone.  In our home having a cell phone will be a privilege that can be revoked at any time for not showing responsibility, following our rules, or being disrespectful.
So that's my take on kids having cell phones…. what about you?  Leave me a comment or link up and let me know!