Welcome to Week 49 of Friendly Debates With The Danielles!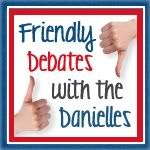 Each Sunday Danielle from "We Don't Have It All Together, But Together We Have It All" and I will host this awesome meme and we would love for you to link up and join us. There will be a question each week that will require you to think about how you feel about a certain topic and to decide where you stand regarding that topic, then of course share those thoughts!
We do have a few rules… or rather guidelines… that we would appreciate being followed:
1.) Please follow the hosts via FaceBook: Danielle B. & Danielle H.
2.) If you link up please leave a comment so we can visit you.
3.) This is a meme, so you MUST answer the question in a blog post.
4.) Link directly to the blog post in which you answer the question.
5.) Grab the button and place either in your post or on your blog.
(You can find the html code in my right side bar).
6.) At the end of your post leave a suggestion for the following weeks topic.
If we choose your suggestion you will be mentioned and linked to in the following weeks post.
AND THE MOST IMPORTANT RULE
Please respect each others opinions. This means no bashing of other bloggers in comments on their posts. Kind words and genuine questions are encouraged. If you strongly disagree with someone else the place to address your view point is in a post on your own blog. If we find that you have blatantly disregarded this you will be removed from the linky.
TOPIC
TV's in Kids Bedrooms:  Yay or Nay? What do YOU say?
Well right now Alleigh and Kaelyn are only 4 and 2 years old, so at the moment for them I say nay.  I much prefer them to play with their toys and use their imagination than to be watching television.  This is not to say that they don't watch television.  In fact I admitted in my "Crap-tastic Mama" post that our living room tv is on basically all day every day, however they are rarely completely immersed in what is on the screen.  I just don't see a reason for them to have a television in their bedroom yet.  In a few years I can see us putting a television in their room, but I most likely won't hook it into the cable.  Instead it would be used for their huge collection of educational DVD's and Disney movies….. this mama can only take so much, hehe.
I'm not exactly certain when I would allow them to have access to a cable box in their own bedroom – around ten to twelve years old seems reasonable, but even then I would be monitoring what they can and can not watch.  I know there are parental controls I can enable to block certain channels and I am sure there is also a way to monitor how long and what times the television can be used as well…. I just have to figure it out.
So for now in my house it is a nay…. but this will change in the future as the girls get older.  What about you?  Do your kids have a tv in their bedroom – why or why not?  Leave me a comment or link up and let us know!