Welcome to Week 52 of Friendly Debates With The Danielles!
Wait… did you catch that?  I said 52 weeks… also known as one entire year.  I can't believe Danielle and I have been sharing our opinions on everything from breastfeeding in public to snacking at the grocery store with our awesome readers for an entire year.  When we first decided to start this meme we had quite a few people who thought the idea of a "Friendly Debate" just wouldn't work and that it wouldn't last that long.  Well I guess we proved everyone wrong!  And so thank you to my readers for doing your part to keep this friendly and leaving kind comments and genuine questions in your comments.  And a huge thank you when you link up – that makes Danielle and I super super happy!  I wonder if we can make it another year?
And now to this week's Friendly Debate….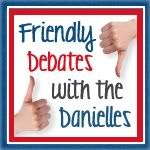 Each Sunday Danielle from "We Don't Have It All Together, But Together We Have It All" and I will host this awesome meme and we would love for you to link up and join us. There will be a question each week that will require you to think about how you feel about a certain topic and to decide where you stand regarding that topic, then of course share those thoughts!
We do have a few rules… or rather guidelines… that we would appreciate being followed:
1.) Please follow the hosts via FaceBook: Danielle B. & Danielle H.
2.) If you link up please leave a comment so we can visit you.
3.) This is a meme, so you MUST answer the question in a blog post.
4.) Link directly to the blog post in which you answer the question.
5.) Grab the button and place either in your post or on your blog.
(You can find the html code in my right side bar).
6.) At the end of your post leave a suggestion for the following weeks topic.
If we choose your suggestion you will be mentioned and linked to in the following weeks post.
AND THE MOST IMPORTANT RULE
Please respect each others opinions. This means no bashing of other bloggers in comments on their posts. Kind words and genuine questions are encouraged. If you strongly disagree with someone else the place to address your view point is in a post on your own blog. If we find that you have blatantly disregarded this you will be removed from the linky.
TOPIC
Cohabitation versus Marriage:  Yay or Nay? What do YOU say?
I have been sitting here trying to figure out the perfect way to word how I feel on this topic and I am sure that I am still going to stumble through this…. but I'll give it a shot anyhow.  And so I do believe in cohabitating if and only if you see yourself marrying the person you are living with in the near future.  Dustin and I moved into an apartment together in October of 2006 and were then married June 1st 2007 – less than a year later.  The reason I think it is a good idea to live together before you are married is so you will see what it is like when you are married.  There were no crazy weird surprises when we said I do that would make us want to run in the other direction.  We had already lived together for a length of time that allowed us to see the little quirks that we each had and to know that we were truly compatible with each other.  And so instead of getting into arguments about things like not rinsing off dishes or putting clothing in the hamper instead of on the floor we were able to truly enjoy the fact that we were now married.
Now the reason I said that I only believe in cohabitating if you can see yourself marrying this person in the near future is because I believe in marriage.  I however do not believe in divorce (with the exception of abuse verbal/mental/physical or cheating).  And so by living with your significant other you will be able to see – within reason – if a marriage will actually work.  And if it turns out it will not work for one reason or another you can both part ways.  In the case with Dustin and I it worked out beautifully.  And I was never so happy as on the day we said our vows.
Many people say marriage i
s just a piece of paper…. but it is so so so much more.  When I stood in front of our immediate family and my best friend at our small intimate ceremony on a Friday evening wearing a white sundress and spoke these words to Dustin…I, Danielle, take you Dustin to be my husband, to have and to hold from this day forward, for better, for worse, for richer, for poorer, in sickness, and in health, until death do us part… it was the best moment of my life.  I was declaring all of these things not only to Dustin, but also to my family, our pastor, and God.  I was making a commitment that I would never break and in my eyes merely cohabitating with someone is not making that commitment.  As I mentioned before when you are cohabitating with someone if things don't work out you are free to go – there is nothing making you stay.  But in a marriage you have committed yourself to the for worse and when things get rough you work it out.  Dustin and I have been there already and we worked it out because that is what we committed to each other that we would do.  And gosh I just love that man with every ounce of my soul.
Yes, when you get married they give you a piece of paper… but that wasn't enough for me.  I had our wedding date with the eternity symbol tattooed on my finger under my wedding ring.  How many times have you heard people say to think long and hard before you get a tattoo because they will last forever?  Well guess what…. a marriage is meant to last forever too and that was my way of showing that I meant it.  Plus when pregnant with swollen fingers I still had my "wedding ring."  I had to throw a giggle in there somewhere!
I also wanted to share a link to a rather interesting list of facts I found at familyfacts.org – Cohabitation vs. Marriage:  How Love's Choices Shape Life Outcomes.  It's rather insightful…
So what about you?  Do you believe in cohabitation or marrige?  Or perhaps a mixture of both like I do?  Leave me a comment below or link up!