Welcome to Week 53 of Friendly Debates With The Danielles!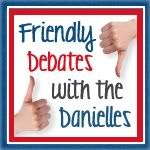 Each Sunday Danielle from "We Don't Have It All Together, But Together We Have It All" and I will host this awesome meme and we would love for you to link up and join us. There will be a question each week that will require you to think about how you feel about a certain topic and to decide where you stand regarding that topic, then of course share those thoughts!
We do have a few rules… or rather guidelines… that we would appreciate being followed:
1.) Please follow the hosts via FaceBook: Danielle B. & Danielle H.
2.) If you link up please leave a comment so we can visit you.
3.) This is a meme, so you MUST answer the question in a blog post.
4.) Link directly to the blog post in which you answer the question.
5.) Grab the button and place either in your post or on your blog.
(You can find the html code in my right side bar).
6.) At the end of your post leave a suggestion for the following weeks topic.
If we choose your suggestion you will be mentioned and linked to in the following weeks post.
AND THE MOST IMPORTANT RULE
Please respect each others opinions. This means no bashing of other bloggers in comments on their posts. Kind words and genuine questions are encouraged. If you strongly disagree with someone else the place to address your view point is in a post on your own blog. If we find that you have blatantly disregarded this you will be removed from the linky.
TOPIC
Knowing Gender Before Birth:  Yay or Nay? What do YOU say?
This is one of those to each their own type things… but for Dustin and I it is definitely a yay.  And for many reasons.
– I am NOT a patient person.  I was so impatient with Willow that I couldn't even wait until the 20 week ultrasound at the OBGYN's office!  I scheduled a 3D scan at a local facility at 15 weeks so I could find out.
– I hate gender neutral clothing, blankets, nursery décor.  It all seems to be yellow and green with ducks on it.  Totally not my style.
– Names.  What's the point in bickering with Dustin over a name that might never come to be.  We could never agree on a boy name when pregnant the first time, so after that we decided not to talk names til we knew the gender.  So obviously we weren't gonna wait til the actual birth to discuss this!
– Personalized Stuff.  I really like to personalize everything and since I tend to choose names that aren't found on key chains and sippy cups everything needs to be special ordered or hand made.  All of my girls have had their names hanging above their cribs and other places around the room too.  In fact Willow's initials are on the curtains covering her closet!
– Bonding not only for me, but for the older siblings.  Once baby has a name it feels like everything becomes more real… if that makes sense?  During my second and third pregnancy the older siblings learned the babies name and would talk to them, hug them, kiss them goodnight – all while they were still in mama's belly.
And here are all the pictures when I found out that the lil peanut growing inside me was a girl…. and a girl…. and another beautiful girl!
I can also see that it could be fun to wait and let the gender be a surprise.  Or that it could even help to be a motivator to push when in labor because you are so excited to find out who has been kicking you for all those months.  But even knowing what gender was inside me I was still motivated to push and push and push because I just wanted to lay my eyes on my gorgeous baby.  Oh and I also realize that sometimes gender scans can be wrong.  I'm sure everyone has heard of a person that was told one gender and it turned out to be the other after they had spent tons of money on gender specific clothing, décor, etc.  This is why I am positive to get a very clear image before I believe the ultrasound tech one hundred percent.  And in all of my pregnancies I have had multiple ultrasounds that have all said the same thing.  Ya, I know mistakes can still be made – but luckily for us they were all right.
So what about you?  Do you find out the gender while pregnant or wait til that little bundle of joy makes his/her entrance into the world?  Leave me a comment or link up – I'd love to hear your thoughts!