Welcome to Week 54 of Friendly Debates With The Danielles!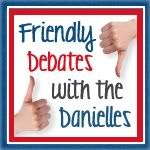 Each Sunday (we're a tad late this week) Danielle from "We Don't Have It All Together, But Together We Have It All" and I will host this awesome meme and we would love for you to link up and join us. There will be a question each week that will require you to think about how you feel about a certain topic and to decide where you stand regarding that topic, then of course share those thoughts!
We do have a few rules… or rather guidelines… that we would appreciate being followed:
1.) Please follow the hosts via FaceBook: Danielle B. & Danielle H.
2.) If you link up please leave a comment so we can visit you.
3.) This is a meme, so you MUST answer the question in a blog post.
4.) Link directly to the blog post in which you answer the question.
5.) Grab the button and place either in your post or on your blog.
(You can find the html code in my right side bar).
6.) At the end of your post leave a suggestion for the following weeks topic.
If we choose your suggestion you will be mentioned and linked to in the following weeks post.
AND THE MOST IMPORTANT RULE
Please respect each others opinions. This means no bashing of other bloggers in comments on their posts. Kind words and genuine questions are encouraged. If you strongly disagree with someone else the place to address your view point is in a post on your own blog. If we find that you have blatantly disregarded this you will be removed from the linky.
TOPIC
How Old is Too Old to Trick-or-Treat? What do YOU say?
This year weather from Hurricane Sandy messed up our door to door trick-or-treating plans, but no worries my little zoo of animals will be heading to trunk-or-treat at their Nan & Pap's church tomorrow evening.  But the question is at what age will I feel my kids are too old to gather up those sweets?
And the answer is….. never.
Trick-or-treating is about having fun…. and so if you come trick-or-treating at my house regardless if you are 1, 100 or anywhere in between as long as you're dressed up I'll give ya some candy!  I love it when I'm taking the girls trick-or-treating and someone says "And here's a piece for mom!"  And I love it even more if it's a Reese's Cup in case you're taking notes, hehe.
As for when I officially stopped trick-or-treating…. I think I was around fourteen or so, but only because all my friends thought we were too old and too cool to go trick-or-treating.  Kids these days need to stop growing up so fast and enjoy being a kid.  Parents can dress up too… so what are you waiting for?  Dress up in a silly costume and get some candy!
What do you think?  Should there be a cut off age for trick-or-treating?  Leave me a comment below and let me know or link up!