Welcome to Week 56 of Friendly Debates With The Danielles!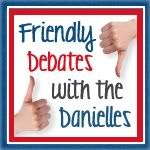 Each Sunday (we're a tad late this week) Danielle from "We Don't Have It All Together, But Together We Have It All" and I will host this awesome meme and we would love for you to link up and join us. There will be a question each week that will require you to think about how you feel about a certain topic and to decide where you stand regarding that topic, then of course share those thoughts!
We do have a few rules… or rather guidelines… that we would appreciate being followed:
1.) Please follow the hosts via FaceBook: Danielle B. & Danielle H.
2.) If you link up please leave a comment so we can visit you.
3.) This is a meme, so you MUST answer the question in a blog post.
4.) Link directly to the blog post in which you answer the question.
5.) Grab the button and place either in your post or on your blog.
(You can find the html code in my right side bar).
6.) At the end of your post leave a suggestion for the following weeks topic.
If we choose your suggestion you will be mentioned and linked to in the following weeks post.
AND THE MOST IMPORTANT RULE
Please respect each others opinions. This means no bashing of other bloggers in comments on their posts. Kind words and genuine questions are encouraged. If you strongly disagree with someone else the place to address your view point is in a post on your own blog. If we find that you have blatantly disregarded this you will be removed from the linky.
TOPIC
Black Friday Shopping with Kids:  Yay or Nay?  What do YOU say?
(This topic suggested by Nancy of Arizona Mama.)
I used to love Black Friday shopping.  I started going with my mom when I was about ten years old and had finally made the discovery that Santa wasn't real so I could help with the Christmas shopping.  At that time Black Friday shopping started around 6am, but it has been creeping back and starting earlier and earlier every year.  In fact this year Wal-Mart is opening at 10pm Thanksgiving night – that is just ridiculous!  Pretty soon Black Friday is going to start on Wednesday…. but I suppose I should actually get to the point of this debate.  And so do I think kids should be present on Black Friday?
The youngest age that I think should be out shopping on Black Friday is probably tweens starting at eleven or twelve years old.  Things have changed so much from eighteen years ago when I started going with my mom.  Not only does this now take place in the middle of the night when kids should be SLEEPING peacefully in their BEDS, but it is absolutely chaotic.  People end up in fights over electronics and there is pushing and shoving just to get in the doors.  I was even a nervous wreck going when I was pregnant and my baby was inside me!
Since Alleigh was born I have gone Black Friday shopping, but it's a lot different.  When Alleigh was 7 months old Dustin and I went out in the morning and he stayed in the car with her.  We did the same thing when Kaelyn was a little one.  We, however, did NOT good out in the middle of the night – we waited until morning when it was light outside and even then I didn't take my babies into the stores.  Even though the crowds had died down some by this point I was still not taking them into that craziness.  This year on Black Friday Willow will only be 3 months old and am almost certain I will not be going out at all that day.  There is really nothing that will have me wanting to be out with the crazies and I would much rather go out and support Small Business Saturday the next day when people are friendly and shopping at reasonable hours of the day.
Perhaps once Willow is no longer breastfeeding – maybe next year, maybe the year after – I will start back to the Black Friday madness.  At that point the girls will probably be asking Santa for things that will require me to brave the crazies again to make sure their Christmas wish lists are fulfilled.
But this year?  No way.
What about you?  Do you take your kids Black Friday shopping or do you see little ones out that day and think their parents just stepped of the wacky train?  Let me know your thoughts by leaving a comment or linking up.