Welcome to Week 58 of Friendly Debates With The Danielles!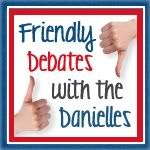 Each Sunday (we're a tad late this week) Danielle from "We Don't Have It All Together, But Together We Have It All" and I will host this awesome meme and we would love for you to link up and join us. There will be a question each week that will require you to think about how you feel about a certain topic and to decide where you stand regarding that topic, then of course share those thoughts!
We do have a few rules… or rather guidelines… that we would appreciate being followed:
1.) Please follow the hosts via FaceBook: Danielle B. & Danielle H.
2.) If you link up please leave a comment so we can visit you.
3.) This is a meme, so you MUST answer the question in a blog post.
4.) Link directly to the blog post in which you answer the question.
5.) Grab the button and place either in your post or on your blog.
(You can find the html code in my right side bar).
6.) At the end of your post leave a suggestion for the following weeks topic.
If we choose your suggestion you will be mentioned and linked to in the following weeks post.
AND THE MOST IMPORTANT RULE
Please respect each others opinions. This means no bashing of other bloggers in comments on their posts. Kind words and genuine questions are encouraged. If you strongly disagree with someone else the place to address your view point is in a post on your own blog. If we find that you have blatantly disregarded this you will be removed from the linky.
TOPIC
Christmas Trees – Real or Artificial: What do YOU say?
I say REAL!!!
Ever since I was a wee little one I remember going with my parents to pick out the perfect Christmas tree, cutting it
down ourselves, and hauling it home. There was just something magical about the entire experience and you just can't beat the smell of a real Christmas tree in your home. Luckily Dustin feels the same way and did the same thing growing up so we knew we would want to continue the tradition with our girls.
For as long as I can remember I have always had a real Christmas tree except the year Dustin and I lived in an apartment – we weren't allowed to have a real tree and so we bought a little artificial tree to use that year. That tree has since been passed on to another family to enjoy because I didn't have the heart to throw it out, but knew we would never ever use it again once we had our own home.
Now every year we head out to the same tree farm where we wander around looking for the perfect tree and typically end up back at the first one we looked at, hehe. Dustin cuts it down and Alleigh "helps" drag it back to the car. Then we warm up in the gift shop full of awesome Christmas décor and have a little snack. And I am so excited because we are going tomorrow!!
I wanted to share some information from Galehouse Tree Farms:

Choosing a real tree over an artificial tree is environmentally friendly!
Real Christmas trees absorb carbon dioxide and other gases, emitting fresh oxygen. This helps prevent the earth-warming "greenhouse effect".
One acre of Christmas trees produces the daily oxygen requirement for 18 people. With approximately one million acres producing Christmas trees in the United States, that translates into oxygen for 18 million people every day.
For every Christmas tree harvested, three seedlings are planted in it's place.
Real Christmas trees are an all-American, recyclable resource where as artificial trees are mainly manufactured in Korea, Taiwan, or Hong Kong.
Artificial trees consist mainly of non-biodegradable plastics and metals. When disposed of, the artificial trees will never deteriorate.
So what about you? Do you have a real tree or an artificial tree or maybe no tree at all? Leave me a comment or link up and let me know!