Welcome to Week 55 of Friendly Debates With The Danielles!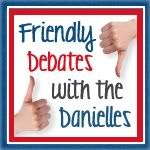 Each Sunday (we're a tad late this week) Danielle from "We Don't Have It All Together, But Together We Have It All" and I will host this awesome meme and we would love for you to link up and join us. There will be a question each week that will require you to think about how you feel about a certain topic and to decide where you stand regarding that topic, then of course share those thoughts!
We do have a few rules… or rather guidelines… that we would appreciate being followed:
1.) Please follow the hosts via FaceBook: Danielle B. & Danielle H.
2.) If you link up please leave a comment so we can visit you.
3.) This is a meme, so you MUST answer the question in a blog post.
4.) Link directly to the blog post in which you answer the question.
5.) Grab the button and place either in your post or on your blog.
(You can find the html code in my right side bar).
6.) At the end of your post leave a suggestion for the following weeks topic.
If we choose your suggestion you will be mentioned and linked to in the following weeks post.
AND THE MOST IMPORTANT RULE
Please respect each others opinions. This means no bashing of other bloggers in comments on their posts. Kind words and genuine questions are encouraged. If you strongly disagree with someone else the place to address your view point is in a post on your own blog. If we find that you have blatantly disregarded this you will be removed from the linky.
TOPIC
Kids at the Voting Polls:  Yay or Nay?  What do YOU say?
(This topic suggested by Trista of Andersons Angels.)
I remember going with my mom to vote a few times while growing up and thinking I couldn't wait to get to do that when I got older.  In fact the first year I was able to vote I decided to work the polls and have a few times since then.  While working the polls I loved seeing the parents bringing their children in to watch them vote.  The kids are in awe of what is going on around them and are so excited to receive that little "I voted!" sticker.
Plus it's important to send the message to our children that part of being a good citizen is participating in one's democracy.  So many people fought and died for our right to vote and that needs to be respected.  And so tomorrow Dustin and I will most likely work something out so that we each take either Alleigh or Kaelyn with us to the polls so they can see mom and dad doing their civic duty.  What about you?  Will you take your kids with you?
Leave me a comment or link up and tell me your thoughts!